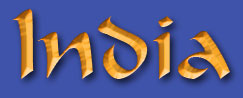 photos by rasa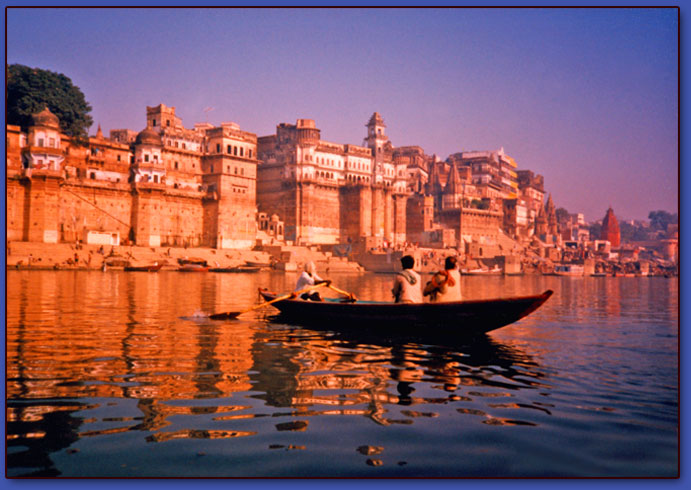 the river Ganges at the ancient city of Benaras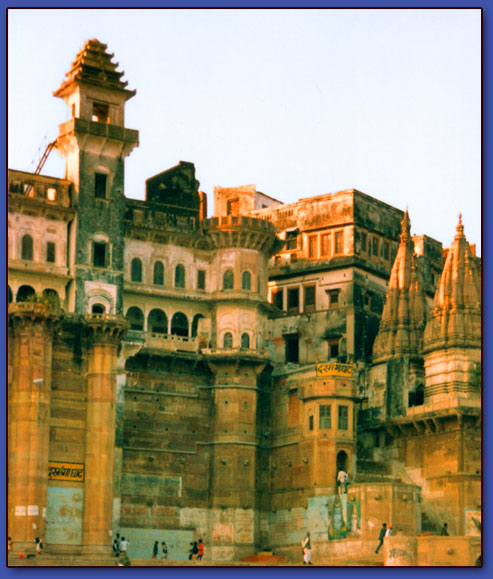 temples and ashrams
On first arriving in India as a young music student in 1970 I was led to a sitar teacher in the city of Benaras (also known as Varanasi). While growing up in America I had no connection to India, but when I arrived in this most holy of all Hindu sites of pilgrimage, I curiously felt more at home than in my own home town. Almost nothing looked familiar but somehow I effortlessly understood how everything fit together. I didn't know what a lot of things were or meant. I didn't know why the woman was wrapping a yellow thread a thousand times around a large tree trunk while chanting and walking in a thousand circles. I didn't know why that man in the middle of the street was bending down in front of a cow, deeply engaged in a seemingly one sided conversation. Every moment of the day in India I experienced some sight, sound, taste, touch or smell I didn't understand, and yet on some deep level it all made sense to me. I suppose it's something like the ability to enjoy music from an unfamiliar culture.
The city of Benaras stretches along one side of the sacred river Ganges. I lived in an apartment in Asi, in the Southern part of the city, where pilgrims traditionally begin their ritual visits to five holy ghats on the river. Ghats are stairways and landings leading down into the water, and in Benaras they are crowded with teachers and seekers, yogis and sidewalk pedlers, con-artists, tourists, beggars and saints. Walking from Asi Ghat to the main Dasaswamedh Ghat downtown can be a journey of enlightenment, both literally and figuratively, in ways that shock the senses, and challenge our deepest understandings. In this place it's hard not to question yourself and the meaning of life, and puzzling when you don't always get the answers you expect. What does it mean to be self-conscious in a culture that believes the self is an illusion?
The photos on this page come from a six month visit to India in 1984, and include scenes from Benaras, Delhi, Agra, Calcutta and the cities of Jaisalmer and Udaipur in Rajasthan.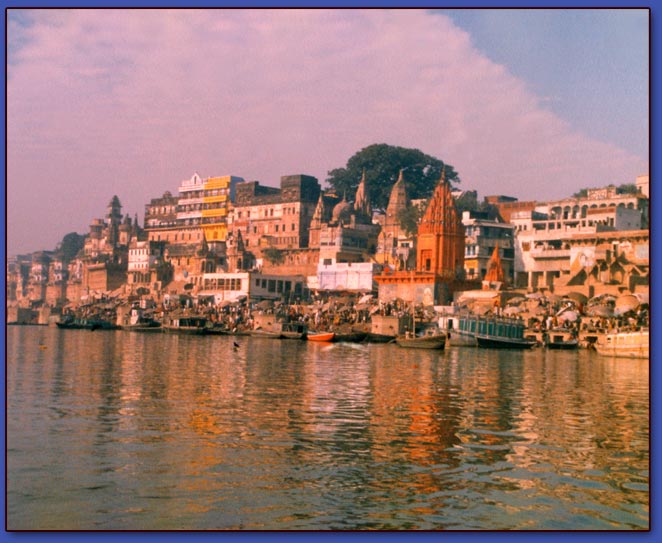 Benaras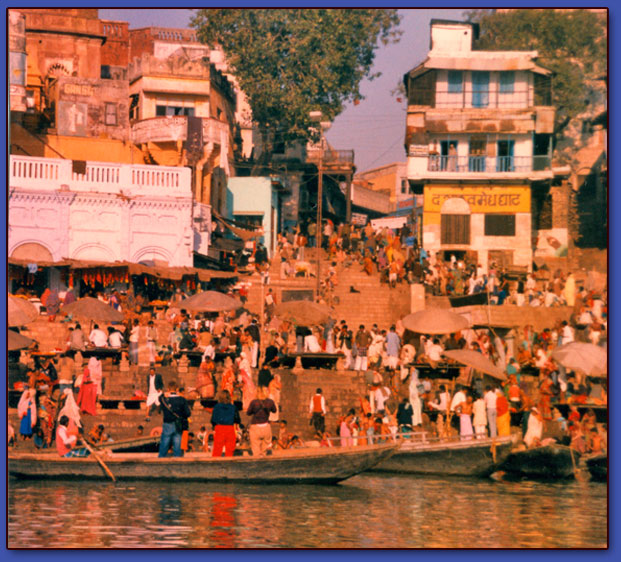 for two weeks I lived in the building on the right in that room on the top floor with blue shades
- not very quiet, but an endlessly fascinating view -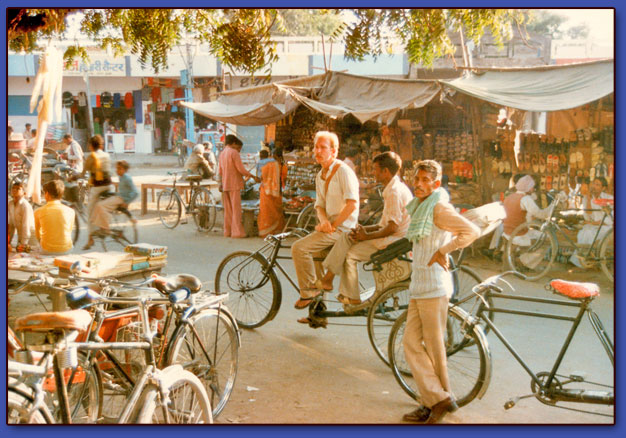 sometimes I would pay the rikshaw driver to let me drive him to where I wanted to go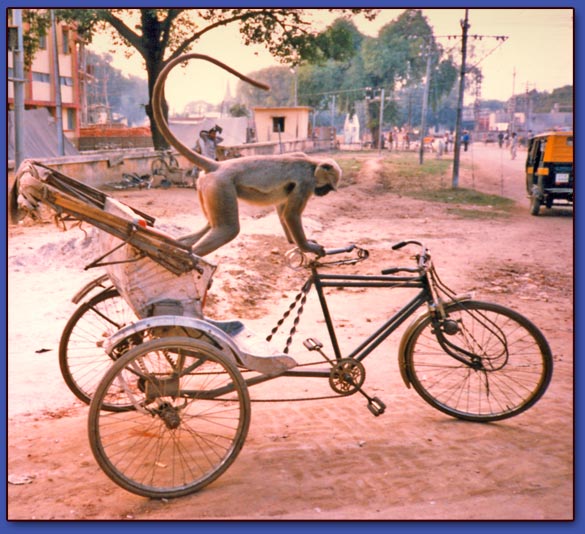 the owner of this rikshaw just stood back and let this giant monkey do what it wanted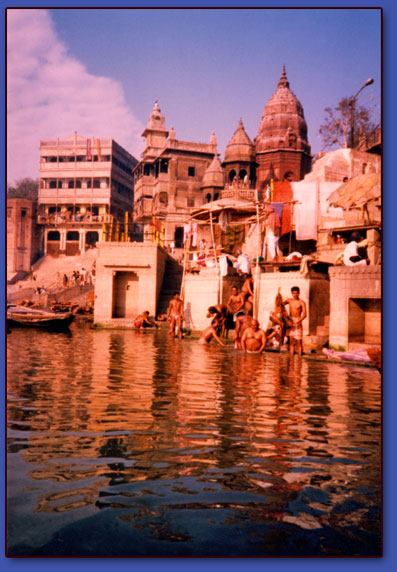 rituals on the banks of the Ganges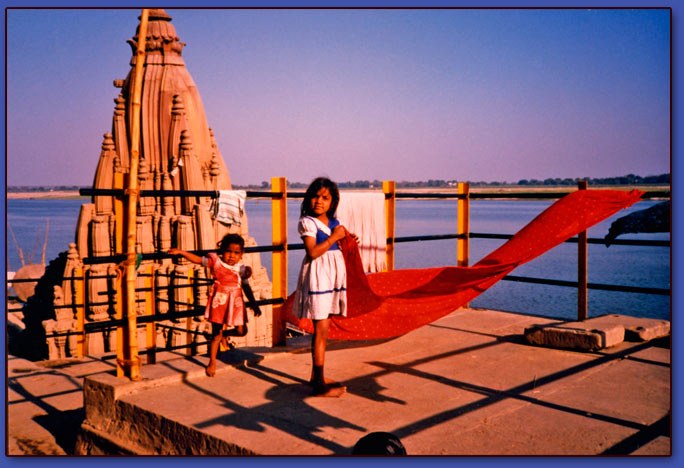 drying a sari in the sun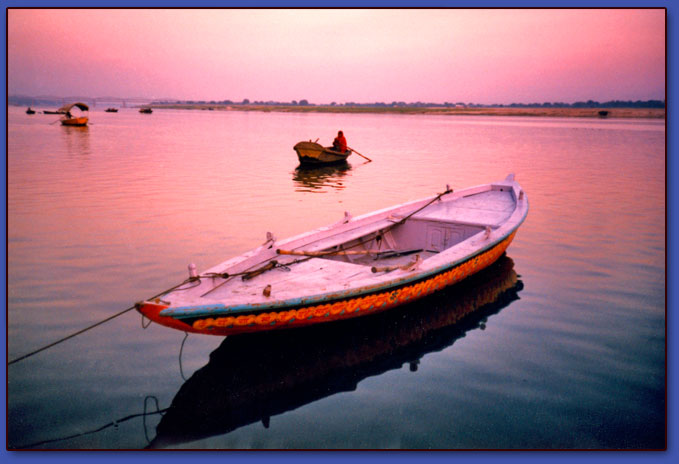 a small boat lit with the early morning light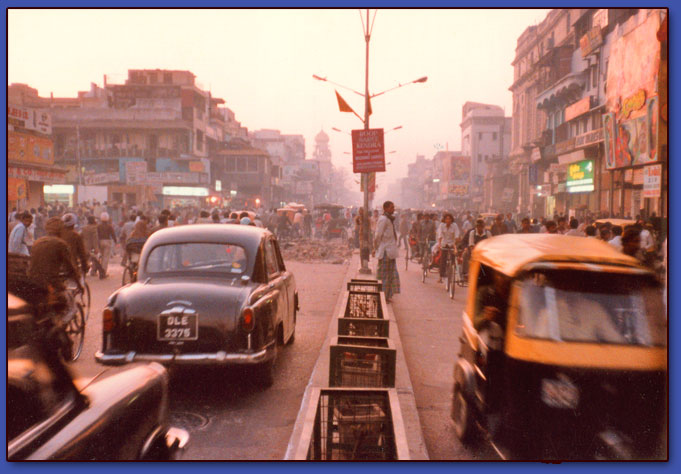 downtown Old Delhi - few discernible traffic rules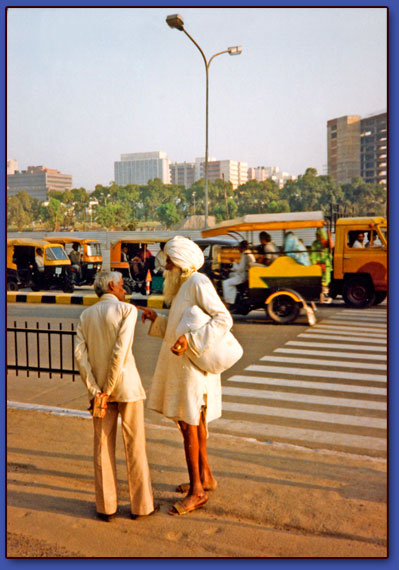 Hindu and Sikh gentlemen in downtown New Delhi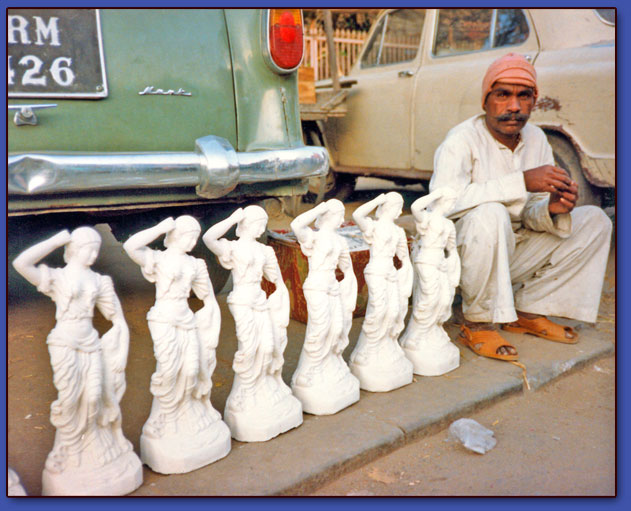 improbable sale on a side street in New Delhi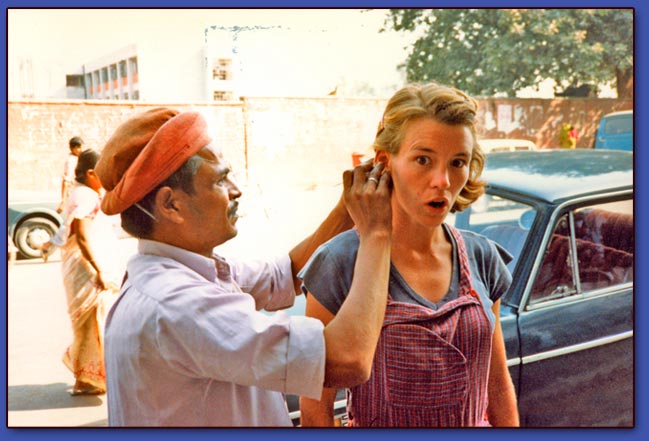 Leslie bravely tests the skills of an itinerant ear cleaning technician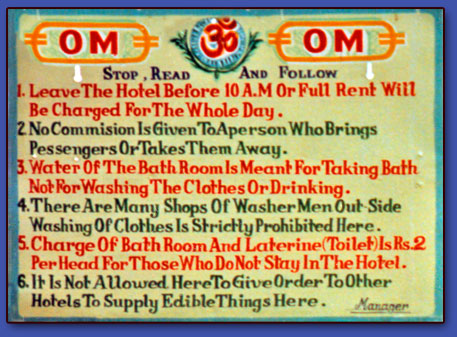 sign hanging over the doorway of a small hotel in Agra
just down the road from the Taj Mahal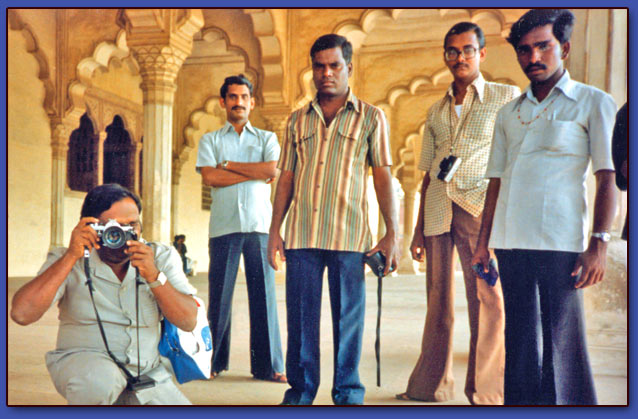 In the palace of Shah Jahan, builder of the Taj Mahal.
Often I am the curiosity.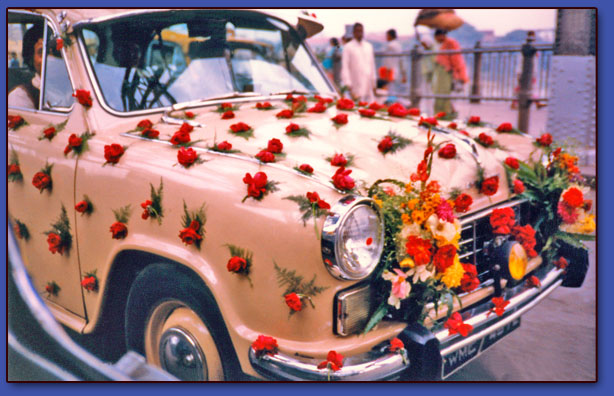 a wedding party driving over the Howrah Bridge into Calcutta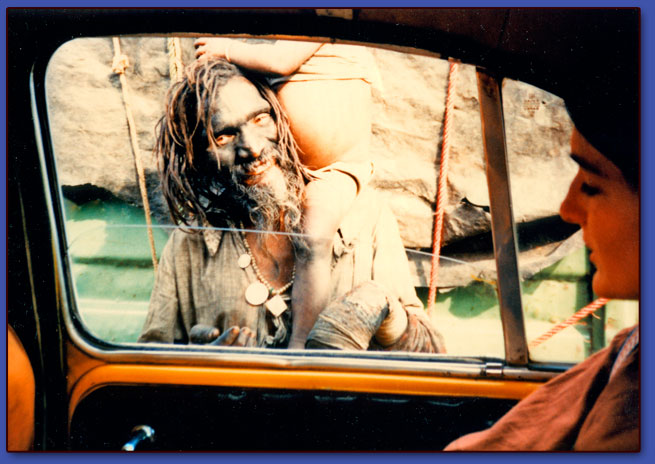 encounter with one of many beggars while riding in a Calcutta taxi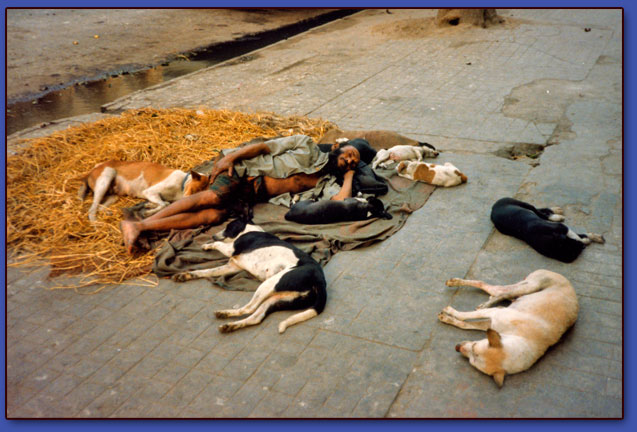 the legendary dog man of Calcutta sleeping with his wild city dog friends
normally these dogs are skittish, shy or agressive with humans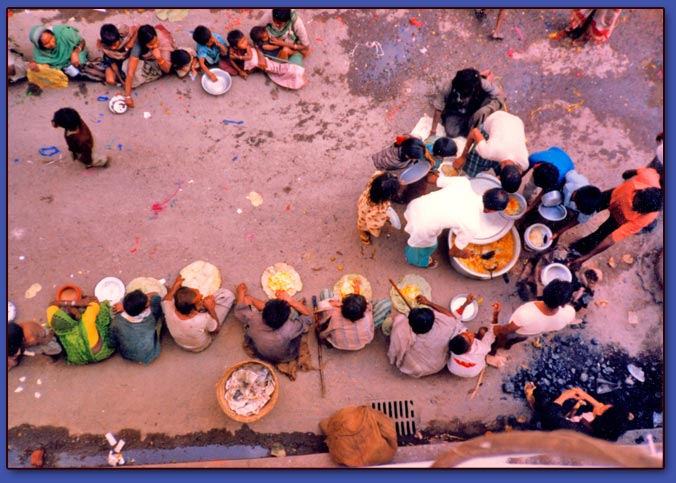 free food every evening on the street in Calcutta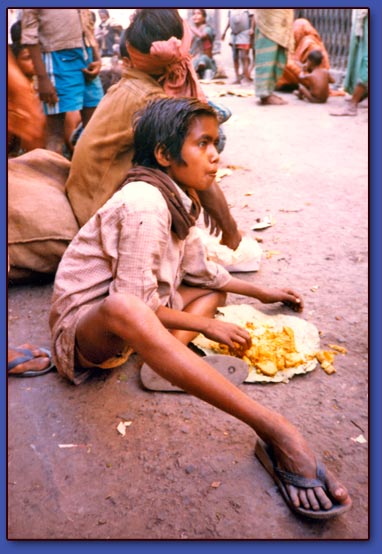 a young boy eats curry vegetables and rice
on a plate made from dried leaves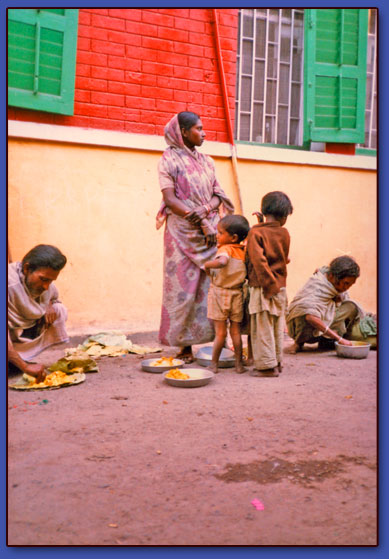 eating on the street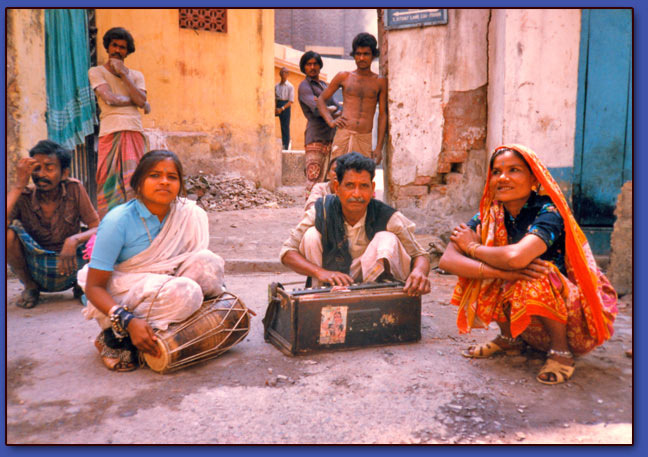 music on the street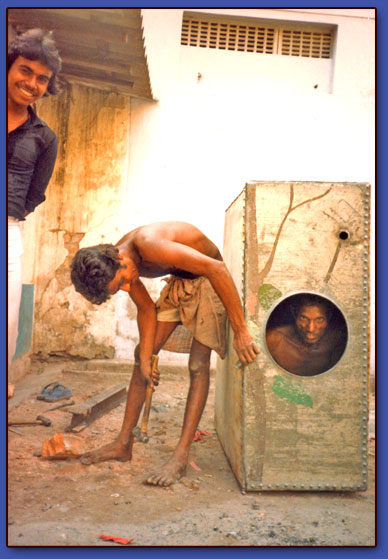 Hammering rivets on the seam of a refrigerator box -
the guy on the inside is holding each rivet in place, and must be deaf.
I came down to take this picture after being woken up at 6am,
hearing the noise from my hotel room window two floors above this street scene.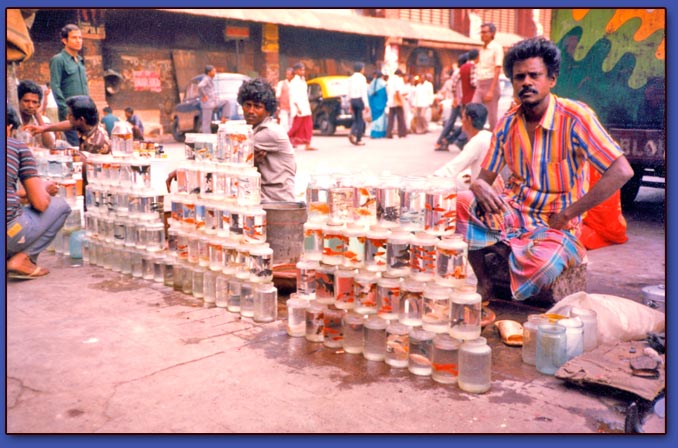 a Calcutta sidewalk goldfish market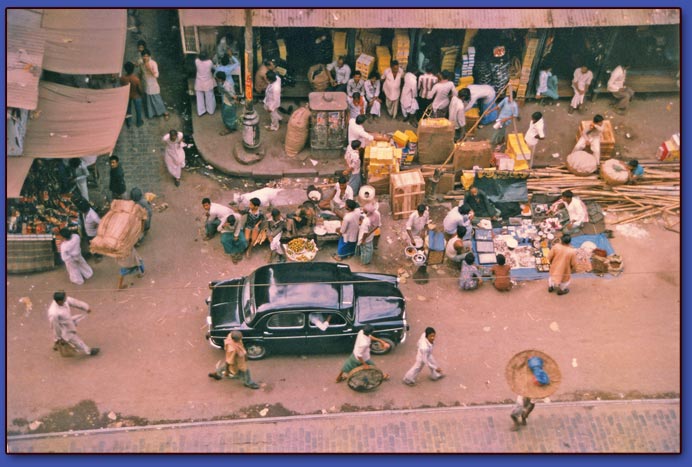 I count close to sixty people in this scene,
and I think at least seven are looking directly at me as I take the photo.
I was standing quietly in the shadows of a balcony three floors above the street.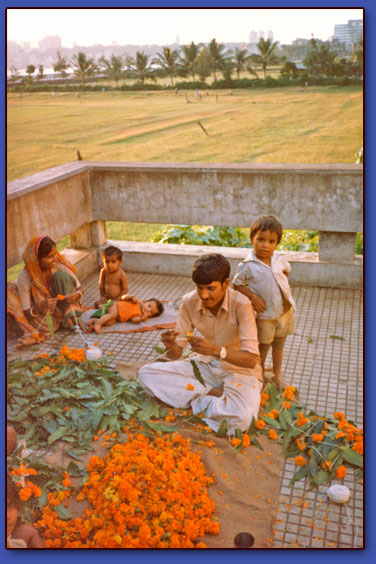 a small family business set up on the landing of a stairwell
on the edge of Calcutta's giant Maidan city park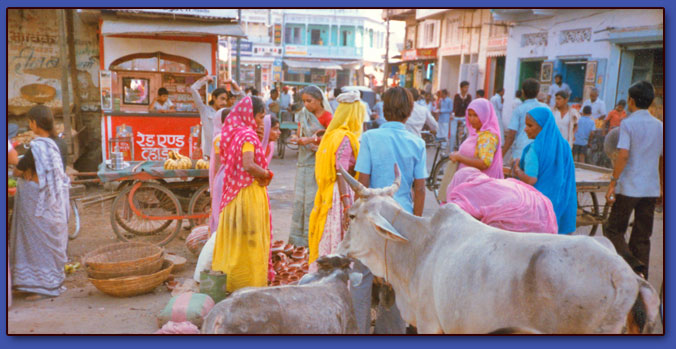 the colors of Rajasthan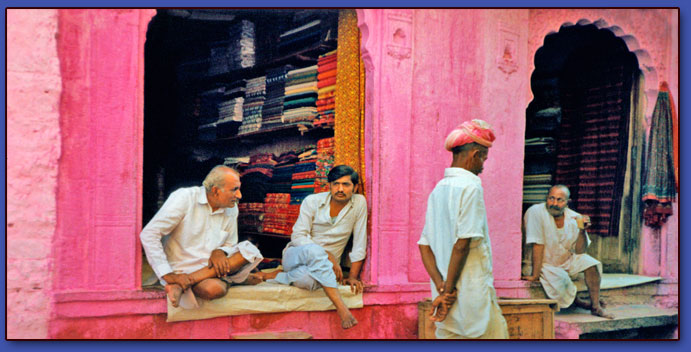 fabric shops in Udaipur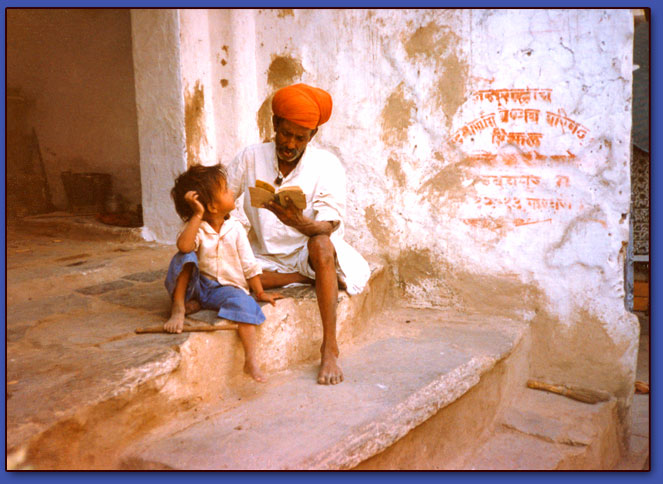 son and father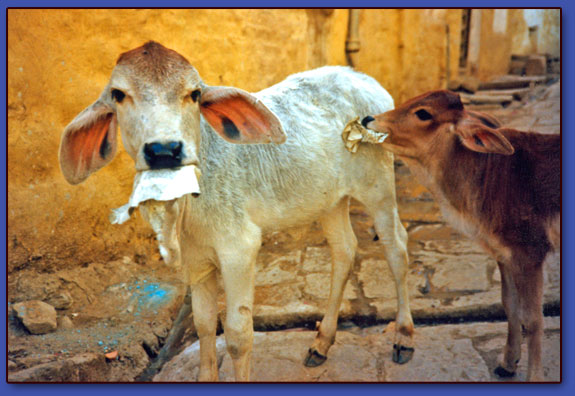 two young cows consuming the evening newspaper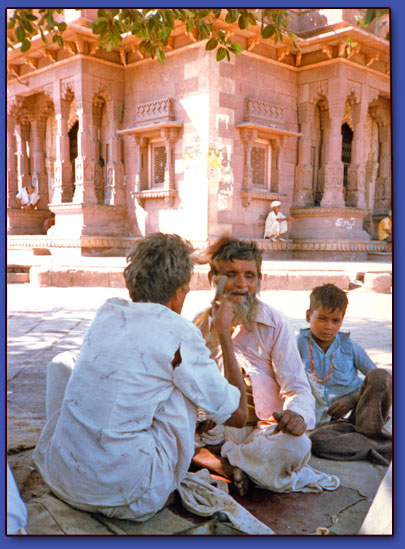 sidewalk barber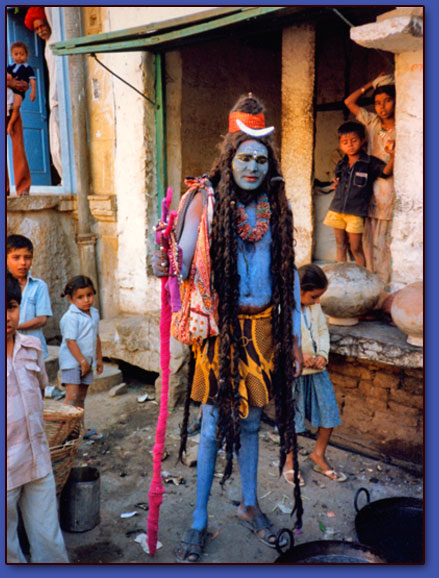 enacting the stories of Lord Shiva
the holy river Ganges is said to originate from the top of Shiva's coiled hair
this street performer secretly squeezed a pump to make water shoot out of his head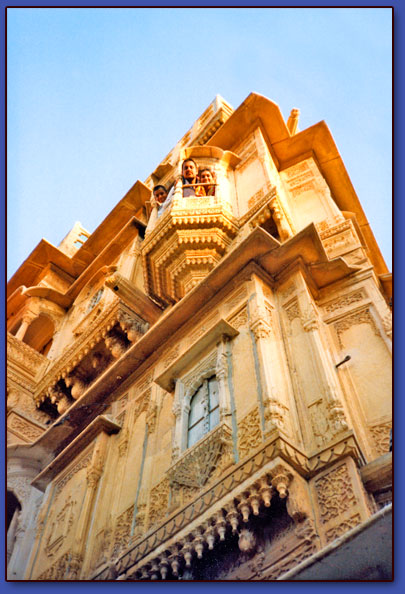 the proud family who lives in this exquisitely carved
sandstone house in Jaisalmer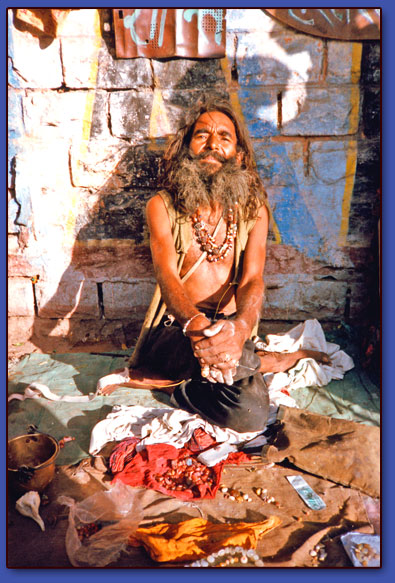 a Rajasthani fortune teller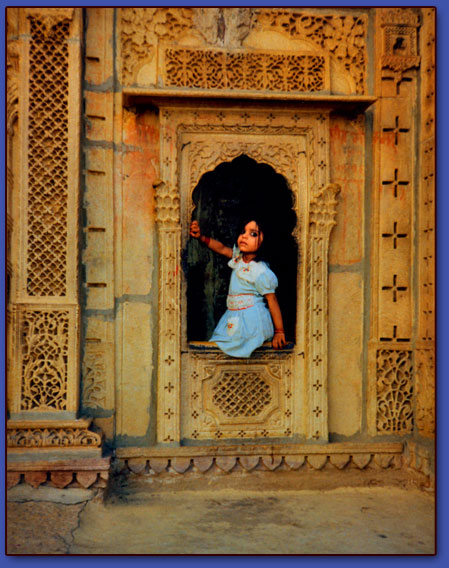 tentative curiosity in a sandstone frame